Despite being fabulously wealthy, absurdly famous, and enviably good-looking, what do most of these stars have in common? Fans who will pay for anything related to them, that's what.
Admittedly, that doesn't sound too bad, and many of us have been privy to buying celebrity-related things over the years. Yet these 15 purchases pose a different kind of fandom. In many ways, they demonstrate the cult power of celebrity, with people around the world believing these celebrity-related items have an ecclesial-like value.
Here are some of the most disgusting celebrity-related things to have ever been auctioned off.
1. Justin Timberlake's breakfast- $3,154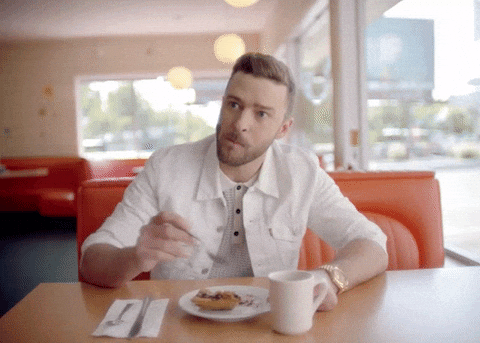 Everyone loves a bit of JT, and his music has given us many excuses to showcase our best moves on the local dancefloor. But one Justin Timberlake fan took their love for the star to a new level.
Yes, one fan spent $3,154 for the privilege of owning the leftover breakfast given to him backstage before an interview with New York radio station Z-100. Sensing a money-making opportunity, the radio DJ decided to auction the remains of his French toast on eBay, with the winning bidder later revealing that she intended to freeze the food and turn it into a decoration she could hang off her bedroom wall.
2. Scarlet Johanson's tissue- $5,300
Scarlet Johansson is a beautiful woman, and anybody who's lucky enough to be in close contact with her will no doubt get giddy but why you'd want to buy her used tissue is anybody's guess. Revealing the story to Jay Leno on his aptly named chatshow, the famous actress admitted that she had blown into the tissue twice after taking a break from filming alongside Samuel L. Jackson in the movie, 'Spirit.'
Leaving behind her valuable mucus and a trace of lipstick from her trademark pillow lips, the actress decided to wrap it up in a bag and put it on eBay. Sure enough, an anonymous bidder outbid 80 others for the 'product', which, as one might imagine, will probably be in the hands of someone who isn't afraid to do some freaky things to it. But it was all for a good cause, and before you lament Johanson for making a quick buck she donated the proceeds to the hunger charity 'USA Harvest.'
3. Brangelina's breath- $523
Two of Hollywood's most recognisable faces may no longer be together, but until recently they were Hollywood's golden couple, so much so that one person purchased a jar which contained the ex-couple's breath!
But the jar wasn't directly breathed into by the pair. The contents was 'obtained' by an opportunistic star hunter standing near them and thereby claiming that after opening the jar the molecules of their breath had entered the pot. Sensing a quick buck, the seller put his jar on eBay, and titled it "Celebrity Air." After many bids, the auction ended at a whopping $523 and proved that the world really has gone mad.
4. Bryan Adam's used (and probably smelly) socks- $1046
For us Regular Joe's, socks aren't exactly pieces of clothing that will draw much attention, but then again, not everyone is Bryan Adams.
The rocker, who was being chauffeur-driven to a children's charity concert in London, reportedly left a pair of Armani socks in the back of the limo. Having already given the car company a plethora of memorabilia including signed copies of his CDs to sell to charity, the driver sold his socks on eBay as well. And it wasn't a bad move, with the socks going for $1046.
5. Britney Spear's used gum- $14,000
Before the likes of Lady Gaga and Taylor Swift came on the scene, Britney Spears was all the rage and her albums sold in their truckloads which explained why everything Spears ate turned into large wads of cash.
In one case, a fan even tracked her down, retrieved her discarded gum and then sold it online for an incredible $14,000. It was also revealed that the high price was influenced by the seller themselves, who placed bids from another account, which is pretty ingenious.
6. Justin Bieber's hair- $40, 668
Justin Bieber is the world's biggest contemporary male pop star, so it's hardly surprising his obsessive fans got so emotional over his hair. You know, just in case Justin Bieber's ego didn't need more of a boost....
With half the world being 'Beliebers', Ellen Degeneres, who was in charge of selling Justin's famous locks for charity, had little trouble shifting them, with the final bid topping $40,000 and only serving to make the Biebs feel more Godly than he already does.
7. John Lennon's Tooth – $31,200
Anything related to members of music's most commercially successful band will sell for a lot of money, especially if the item in question belongs to the late John Lennon, a man long credited with being the face of the now defunct band. Losing a molar, Lennon graciously gave it to his housekeeper Dot Jarlett, whose daughter was a massive fan of The Beatles.
After his death, however, the fan clearly saw dollar signs and instead of sobbing over it for eternity, auctioned it in England, with the winning bid fetching the girl a mind-blowing $31, 200. As for the identity of the winner? Fittingly, it was a Canadian dentist.
8. Jennifer Lawrence's Bra- $3,175
Jennifer Lawrence is a beautiful human being whose movie credits in the last few years have propelled her to superstardom, and as well as winning an Academy Award, she is also Hollywood's highest paid actress. Not bad for an adorable goofball from Kentucky. Who everyone wishes they could marry. And eat chocolate souffle with.
On the flipside, fame is synonymous with creepy fans who want anything you have, and that includes your underwear. Thankfully, the item in question wasn't sourced from Lawrence's underwear draw. What it was was a sports bra J-Law wore on the set of Silver Linings Playbook.
Having to perform an array of dance scenes, (because Lawrence can do anything), the sports bra certainly had its work cut out, although it seemed to have paid off, and after being auctioned, it went for $3,175 to a mystery bidder. And yes, they're probably doing many things to it....
9. Britney Spears's Pregnancy Test – $5,001
First things first: ewwwwww. Is it just us, or does buying a stick with someone's urine sound insane? Well probably, but then again, there's also a lot of Britney fans who probably like both her music and her bowel movements.
Anyway, without meaning to gross you out, the story behind the pregnancy test's discovery came after workers working for an Ottawa radio station near the hotel of where the star was staying paid hotel employees to look through the contents of her rubbish.
Low and behold, one worker found a positive pregnancy test, which the radio station claimed they auctioned to charity for $5,0001.
10. Elvis Presley's soiled underwear-$8,000
It's common knowledge that The King died on the throne at the paltry age of 42, but as many are no doubt wondering, these tighty-whities weren't the ones he sported that fateful day. However, a pair of soiled briefs he wore at a concert that had never been washed still fetched some serious bucks.
Collected by his father shortly after his son's death, the underwear was auctioned and though bids reached an impressive $8,000, it wasn't enough to match the $11,000 reserve price. Still, $8,000 for a pair of smelly undies isn't bad at all.
11. Jude Law's naughty pool table- $2,800
Jude Law is a handsome chap who would probably still get his fair share of admirers even if he wasn't rich or famous. But he is, which makes him even more of a stud, although having an affair with your children's love-struck nanny following an engagement to the beautiful Sienna Miller left many people scratching their heads. But it happened, and thanks to the paparazzi his infidelities were exposed.
But here's where it gets interesting. When he was filming All The King's Men in New Orleans, his rented accommodation came with a generous neighbour who would regularly lend Law his pool table. And according to the nanny, they would make passionate love on it! Upon hearing this, the owner smelt money and auctioned the table on eBay although whether he sold it is not known, although offers did reach as high as $2,800.
12. Ronald Reagan's blood – $12,000 to $30,000
Ronald Reagan divided opinion but he's undeniably one of America's most famous presidents, and in Republican mind's, at least, one of the best which will likely explain why bids on his vial of blood are rumoured to have reached the $30,000 mark when auctioned online.
Before you start thinking wild things, the person who possessed the blood was not a psychopath. In fact, the story is kind of interesting and stemmed from the failed assassination attempt on Regan's life by John Hinkley Junior. Shortly after, Reagan was asked to draw blood at George Washington University Hospital, with his sample given to the seller's mother who, when working at the Bio Science Laboratories, asked if she could keep it.
30 years later, the blood was handed down to her son, although rather than hold it in the family, he decided to sell it, and even spoke to the head of the Reagan Library. While interested, they refused to pay, so instead the money-hungry seller went online. Though despite bids reportedly reaching between $12,000 and $30,000, it is not clear whether the vial sold, especially when you consider that many legal threats were issued, with the Ronald Reagan Foundation describing the sale as a "craven act".
13. Nial Horan's leftover toast- $100,000
One Direction's fandom is like no other, with an online army of teenage girls not afraid to ruin your worth as a human being if you so much as criticise a fellow member of their 'boys'. With that in mind, you won't be shocked to know that one fan paid $100,000 to be the proud owner of Nial Horna's leftover toast that he spat out on Australian live TV.
Spread with vegemite to test whether he would like the Australian delicacy, which in all fairness is disgusting; he did what most would do and spit it out, giving the producers of the show the chance to sell it online for charity.
But little did they know that it would go for $100,000....
14. William Shatner's kidney stone – $25,000
Most people's health problems mean having to fork out large sums of money, but in Shatner's case, (seeing as he's, you know.... William Shatner), the removal of his kidney stone not only posed zero financial constraints, it also brought him back his health and a cool $25,000.
Selling it to charity, the winning bidder happened to be the same online Australian casino company that purchased Britney's pregnancy test.
15. Michael Jackson's underwear- $1,000,000
Following the King of Pop's death, many of his possessions were auctioned to cover outstanding debts, and his used and soiled underwear wasn't spared.
But they weren't just any old pair of undies. They had quite a painful past after being used as evidence during his child molestation trial. However, after coming back negative in tests, the underwear became the property of bankruptcy expert Henry Vacarro who auctioned them on eBay with a reserve price of $1,000,000.
It is still unknown if a buyer met the asking price, let alone if they were sold, but we can hazard a guess someone was prepared to offer well over six figures for these granny-like undies.